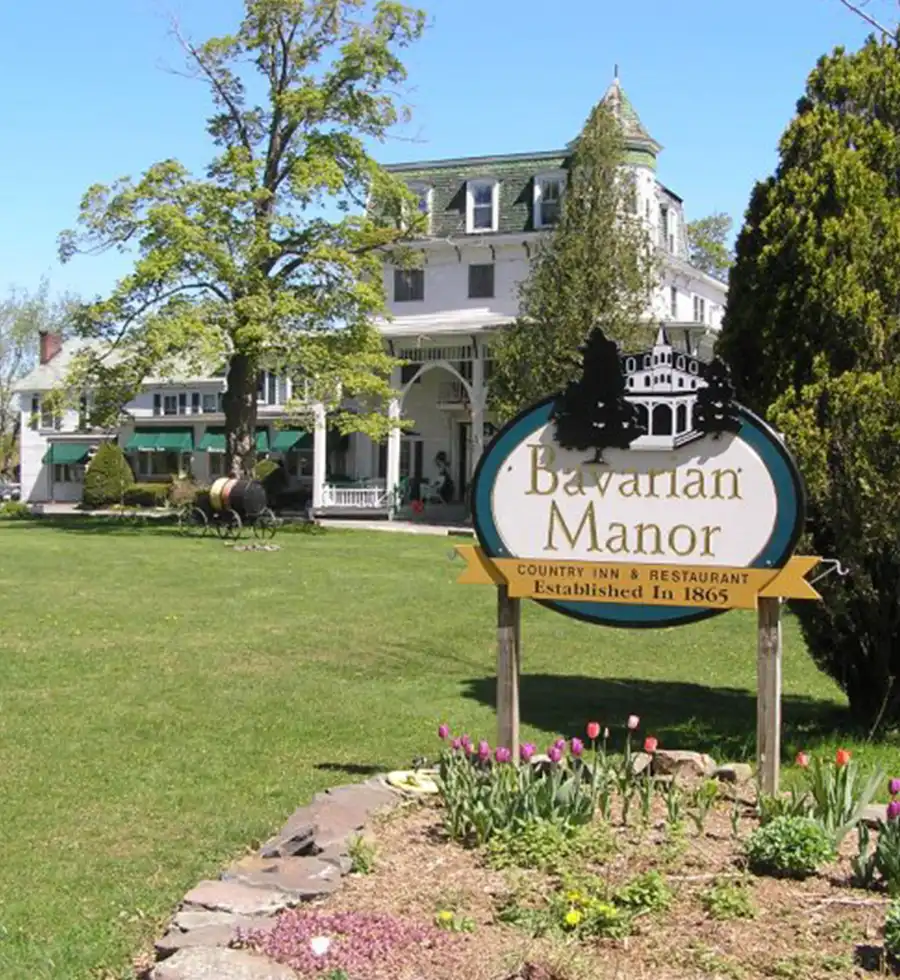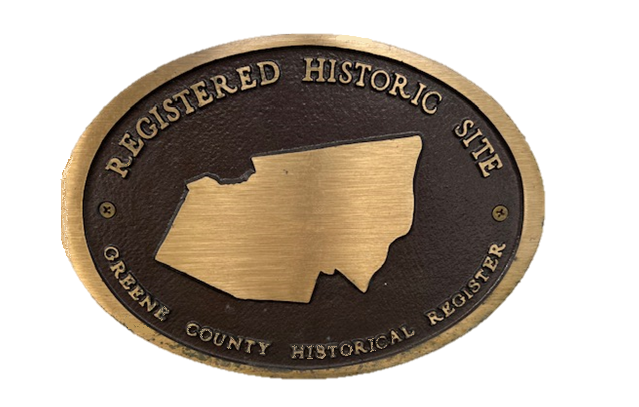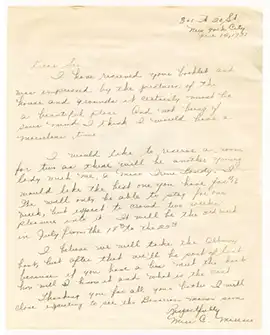 Where it all begin...
The records of the land tell us that it started out as a farm owned by the Lennon family.  The deed starts at 1854.  According to the local census at some point (circa 1865) they started taking in boarders.  Eventually, the Lennon family moved the farm house down the way and built the inn, calling it The White Sulphur Springs House.  It was discovered that the water on the property was quite refreshing and had theraputic healing properties.  A bath house with a doctor and nurses were added.  Through the years, the inn changed its name to The Columbian and changed owners about 3 times with The Bauer family taking ownership in 1931.
Each generation has put their mark on the inn.  Karl & Anna Bauer changed the name to The Bavarian Manor, added on to the inn  and actually turned the bath house into a German beer garden with music and dancing!  Son, Bill and wife Johanna, made improvements to the inn and continued to create a lively, happy, friendly hotel  vacationers looked forward to.  The next generation, Suzanne with her husband, Stan, took the hotel to yet another level, looking to the past and celebrating the legacy of the Catskill Mountains, bringing the mountains, the art, the quiet, the air and the original hospitality together.
The new owners have big plans for this property that will enhance all that is already offered at the Bavarian Manor Hotel.
There is over 100 acres of country trails and a 6 acre lake with bass and catfish and if you're quiet, you will see "Big Mama" a snapping turtle as big as a tire. We're open all year-round. So you can walk the trails and fish the lake in the summer. As each season offers different activities, so do we, please see our current calendar of events. We are small and family owned and run.
We've got some of the best views in the county. What other inn can boast a 40 mile view? Our east side 2nd floor rooms are our best, they book early. Our cozy lounge has a fireplace and opens to the porch.  It's filled with nice folks who love to share a few laughs and conversation. Occasionally we have live music in our restaurant. We're not a suit and tie sort of place. We do get fancy, but dress-up casual is as far as it goes. We're simple uncomplicated and friendly.. that's our style!
Onsite Amenities
Take advantage of all that we offer here at the Bavarian Manor Hotel. On site restaurant, bar, walking trails, fishing in lake, glamping, off road biking, outdoor dining, and firepit.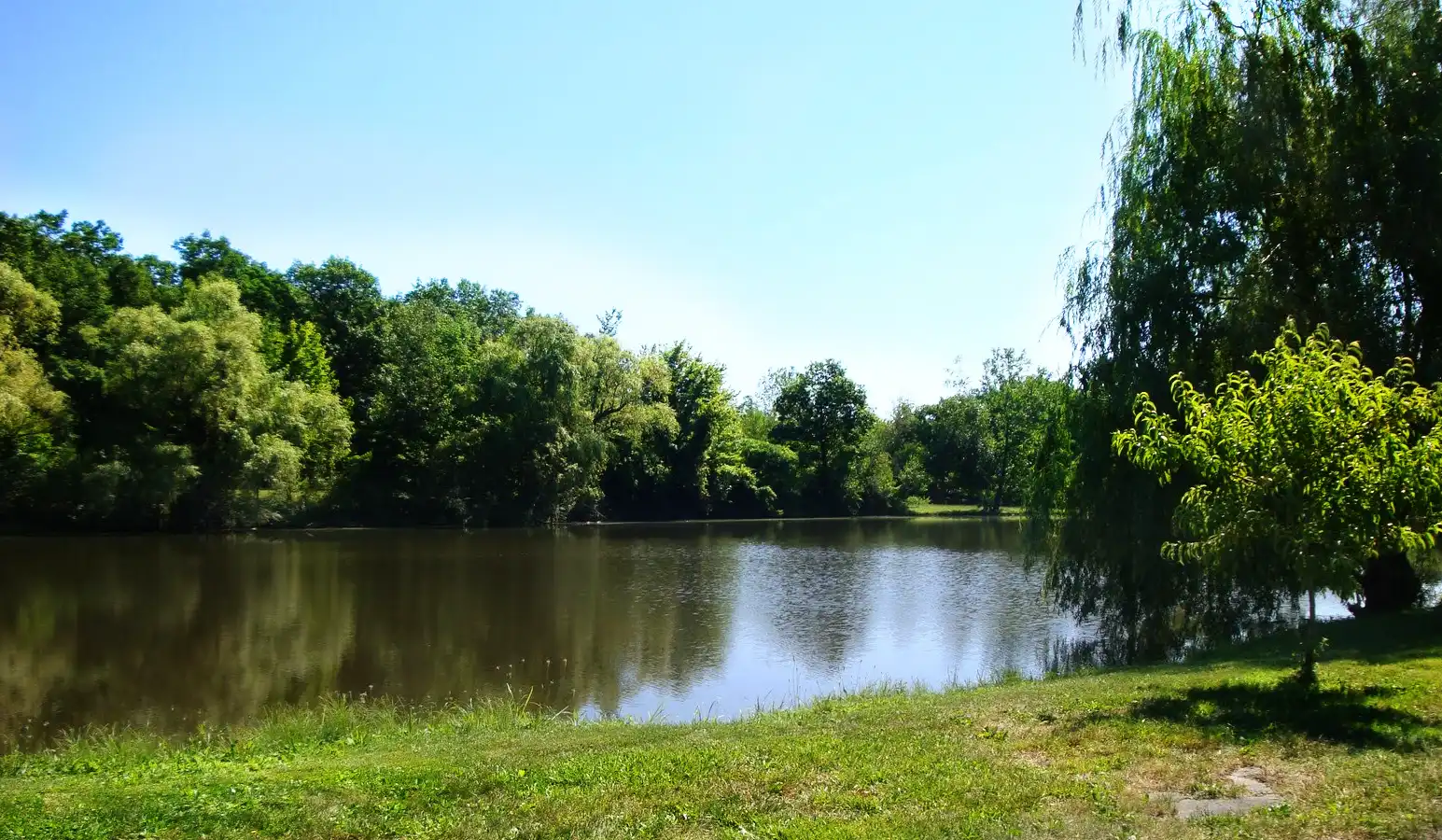 Offsite Amenities
There's a lot to do in the Greene County and the Northern Catskill Mountain Region. From hiking the Catskill Forest Preserve, Howe Caverns underground cave system to the National Historic Sites, there is something for everyone.
For information on all that our beautiful county has to offer, visit www.GreatNorthernCatskills.com
Biking
Windham Moutain Bike Park | Windham
For riders of all ages and ability levels. The longest jump trail in the east, and a five-time world cup course.
Colonial Trail System | Tannersville
The newest mountain biking trail network in Greene County featuring natural and man-made routes including tre rake and ride trails.
Elm Ridge Trail System | Windham
25+ miles of well-marked trails, including some of the best single-track in the region.
Huckleberry Trail | Tannersville
2.7-mile trail follows the old Huckleberry Railroad from Bloomer Road around Rip Van Winkle Lake.
The Round Top Trail Network | Round Top
20+ miles of single, double-track, and fire road trails with waterfalls, bridges and technical sections for more experienced riders.
Horse Riding
K & K Equestrian Center | East Durham
Guided scenic trail rides focusing on beginners. Pony rides, lessons, pony parties are also available.
Bailiwick Animal Park & Riding Stables | Catskill
Horseback riding on scenic mountain trails as well as pony rides and riding lessons.
Rough Riders Ranch | East Jewett
Trail rides through scenic forested trails, across streams and alongside steep mountain overlook.
Ziplining
Hunter Mountain | Hunter
Longest, fastest and highest zipline canopy tour in North  America.
Skiing
Hunter Mountain | Hunter
Features over a dozen trails spearate from the main mountain for the first-timers.  Plenty of double diamon trails and the Empire Terrain Park for the experts.
Windham Mountain | Windham
Award-winning Snowsports School with over 300 professional ski and snowboard instructors to help master a winter sport.
Tubing
Hunter Mountain | Hunter
The largest snowtubing park in New York, offering more than 20 chutes, including an area exclusively for children.
Windham Mountain | Windham
Six lanes of exhilarating snowtubing and a conveyor lift. Plus kids' snowmobiles and a comfy lodge complete with Slider's Café.
Blackhead Mountain | Round Top
18-hole, par 72 championship course. Very challenging with sand water, two-tier greens, pro shop, lessons, cart and club rentals.
Catskill Golf Club | Catskill
Built in 1927 the classic course was updated in 2000 to 18 holes with four sets of tees and a par of 72 at 6,482 yards..
Colonial Country Club | Tannersville
Challenging 9-hole, par 35, USGA Regulation golf course. Buildt in the early 1920s with stunning views of the Catskill Mountains.
Christman's Windham House | Windham
7,000 yard Mtn. pro course with 6 tees, plus 9-hole valley course. Largest practice facility in NYS!
Island Green Golf Club | Greenville
18-hole USGA golf course with airport and driving range. Area's only island green.
Sunny Hill Golf Course | Greenville
Challenging 18-hole, par 66 course set on 300 acres with panoramic views of the norther Catskills.
Thunderhart Golf Course | Freehold
18-hole, par 72 championship golf course with 11 ponds and 15 sand traps over 6,4000 yards long.
Windham Country Club | Windham
18-hole, par 72, 6,333 yard long public golf course. Scenic and challenging with beautiful pristine greens and fairways that follow the Batavia Kill.
Acra Point and Batavia Kill Loop | Maplecrest
(Moderate to Difficult: 5.3-mile circuit) trailhead located on Bigh Hollow Road (Country Route 56).
Devil's Path | Hunter
(Difficult: 24.75-mile trail) trailhead located off County Route 16 (Platte Cove Road) at the corner of Prediger Road.
Escarpment Trail at North-South Lake | Haines Falls
(Moderate to Difficult: 10.3-mile circuit) trailhead located on Schutt Road, Haines Falls.
Escarpment Trail, Windham Trailhead | Windham
(Moderate to Difficult: 23-mile trail) trailhead located on Route 23, Windham.
Hunter Mountain Fire Tower | Westkill
(Moderate to Difficult: 8-mile trail) trailhead located on Spruceton Road (County Route 6).
Indian Head Mountain | Hunter
(Difficult: 7.8-mile circuit) trailhead located on Platte Clove Road.
Kaaterskill Rail Trail | Haines Falls
(Easy: 1.5-mile trail) Mountain Top Historical Society train depot to the end of Laurel House Lane where you pick up the trail to the Kaaterskill Falls Viewing Platform.
Kaaterskills Falls Viewing Platform | Haines Falls
(Easy: .6-miles, round trip) is the highest cascading waterfall in New York State. Trailhead for top of the waterfall, that is handicapped-accessible, is located at the end of Laurel House Lane. POSTED TRAIL SIGNS MUST BE OBEYED AND PROPER FOOTWARE IS REQUIRED.
North-South Lake State Park | Haines Falls
Located in Haines Falls, offers access to numerous hiking trails including the short hike to the former site of the Catskill Mountain House, Artist's Rock, Sunset Rock and Newman's Ledge.
Plateau Mountain via Warner Creek Trail | Hunter
(Difficult: 8-mile circuit trail) trailhead located on Notch Inn Road.
Pratt Rock | Prattsville
(Difficult: 3.1-miles, round trip) trailhead located off Route 23.
Windham High Peak via Burnt Knob | Windham
(Moderate to Difficult: 7.3-miles, round trip) trailhead located on Big Hollow Road (Country Route 56).
Discover the Bavarian Manor Hotel
Sign up to receive the latest news and updates happening at the Bavarian Manor Hotel.